Top 10 Buddhist Monastery around Kathmandu
Buddhism in Nepal started after the birth of Lord Buddha, the founder of Buddhism himself. Siddhartha Gautama was born in Lumbini, Nepal at the Shakya Kingdom of Kapilbasthu as a Prince nearly around 500BC. He then left the palace in search of enlightenment. Gradually, after his enlightenment, Buddhism became a presiding religion in the northern areas of the country. Buddhist arts also started growing in mostly the central part of Nepal. Ethnic groups from this part of the country including Magar, Bhotes, Rai, Limbu started following Buddhism. It is also believed that Buddhism has been influenced by Hinduism.
The daughter of the first Licchavi King, Bhrikuti married the ruler of Tibet. It is believed that she was the one to introduce Buddhism to Tibet. Both Hinduism and Buddhism was flourishing in Nepal during the Licchavi period. As there is a presence of a half-sunken Buddha in Pashupatinath and a statue of Buddha as a representation of Vishnu in Changu Narayan.
More than 10000 followers from the world come to visit Stupas every year in Nepal. There is more than 100 Buddhist monument in every corner of Kathmandu Valley. Let's take a look at Top 10 Buddhist monastery in Kathmandu:
Phuhari Monastery
Thrangu Tashi Yangtse Monastery
Druk Amitabh Mountain Monastery
Dhagpo Sheydrub Ling Monastery
Swyambhunath Monastery
Bouddha Stupa
Kopan Monastery
Kopan Monastery, built in a hilltop is a Tibetan Buddhist Monastery, located at Boudhanath Kathmandu. This Monastery's name comes from the hill it is located. In this Monastery, there are hundreds of nuns and monks and they are offering meditation courses year around.  Every year a huge number of foreigners come here to study Buddhism and meditation. This course offers introductory-level courses in what is known as the Discover Buddhism series, dealing with the basic principles of Tibetan Buddhism and meditation. The series known as the Next Step series, leads on to a deeper exploration of these principles.
Phulari Monastry
Phulari monastery is located at the top of the hill in southern Kathmandu. It is a beautiful place near Gokarna. This Gumba is a quiet place to meditate, heal yourself as well as fresh air. This monastery is very famous for its architecture.   There are two religious buildings, a beautiful garden, monk's quarters, and religious Gumba where the students learn about meditation inside the premises of Phulari Monastery.  In this monastery, Monks engage intensively in prayer, scriptures, rituals, and dedication for the temporal benefit of being and ultimate realization.
Shechen Monastery
Shechen Monastery is one of the biggest and oldest monasteries in the Boudha area and well worth a visit. This monastery is one of the six main Nyingma monasteries of Tibet, was destroyed in the late 1950s. Originally, it was located in Tham, Tibet but was destroyed in a cultural revolution and was rebuilt in Nepal. Shechen Monastery at Boudha held ceremonies in memory of Jamgön Ju Mipham, or Mipham Jamyang Namgyal Gyamtso (1846–1912) – also known as 'Mipham the Great'.This monastery maintains the philosophical, contemplative, and artistic traditions of the mother monastery.
Thrangu Tashi Yangtse Monastery
This Tibetan Monastery is at the southeast of Kathmandu and lies at the top hill of the Nmaobuddha Municipality. The main Festivals celebrated here are Kartik Purnima and Buddha Jayanti. It is believed that at the top of the hill in the jungle there was a tigress living and was about to die due to hunger with her five little babies who were still sucking milk from her. The survivors of the babies were upon their mother. Therefore, Mahasatwo decided to give his life to the tigress in a bust of love and compassion. He then cut his own body to feed the tigress. Tigress accepted his sacrifice and left his bones. Later, those bones were brought and buried in the tomb, which is the actual stupa. After many years Gautam Buddha visited that place and declared that he was the reincarnation of Mhasatwo.
Druk Amitabh Mountain Monastery
This Monastery is also known as Seto Gumba or White Monastery. It is indeed one of the most popular monasteries of Nepal. White Monastery is located at a northwestern hill near Swyambhunath Stupa. This monastery is located at 1500 m above sea level, which is a vantage point for you to watch over most of the Kathmandu Valley and on a clear day, you can watch the Himalayan range too. From an architectural point of view, the monastery is just outstanding, the walls there are decorated with Tibetan murals, paintings, and statues depicting Buddhist teachings.
Dhagpo Sheydrub Ling Monastery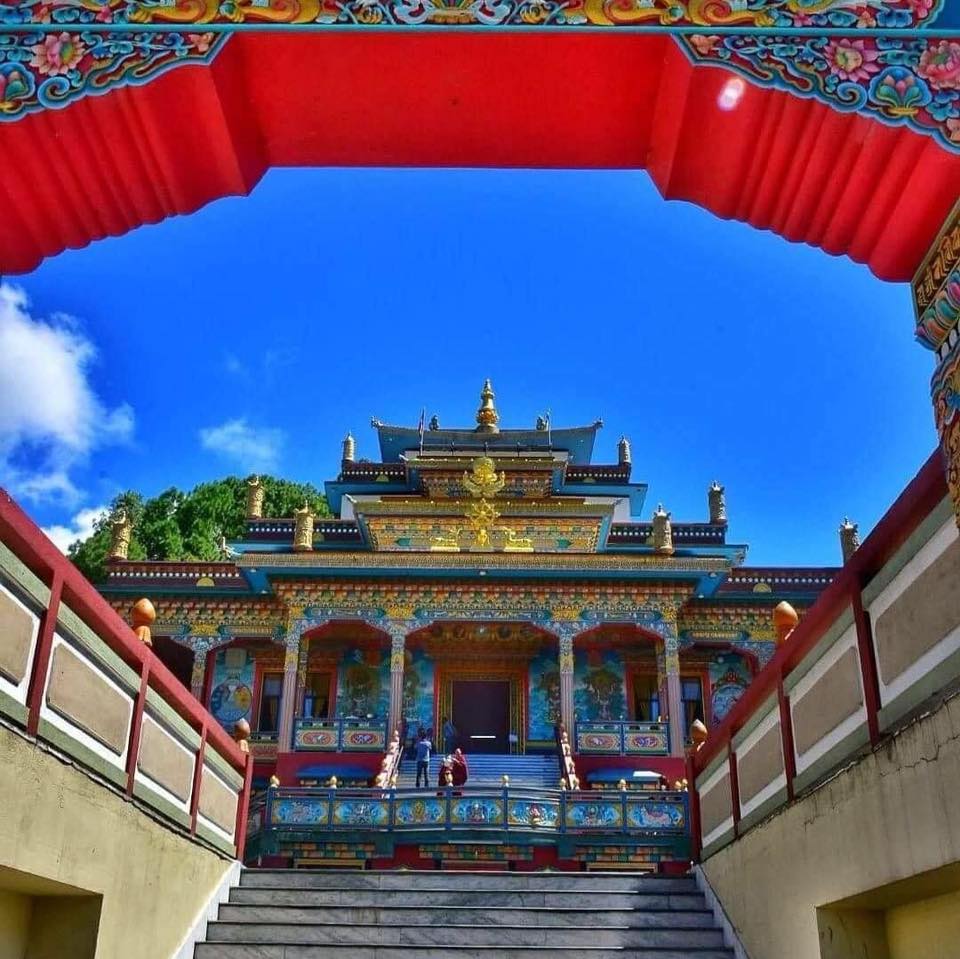 Dhagpo Sheydrub Ling Monastery is located on Nala, Banepa, Kavre.  About 1300m from Karunamaya Temple North-West & can be reached from Bhaktapur too. This Monastery is known as Nala Gumba . It also focuses on giving proper education to Buddhist children. There are so many and different art and sculpture inside the gumba. This is one of the most beautiful but highly unidentified and underrated monasteries.
Swyambhunath Monastery
Swayambhu literally means "self-existent one" also, believed so far back to 460 A.D.It had been built by King Manadeva and by the 13th century, it had become a crucial center of Buddhism. It is believed that Swayambhu was born out of a lotus flower that bloomed within the middle of a lake that when spread across the Kathmandu Valley once was. It is located on a hillock 3 km west of Kathmandu,. Swayambhu is one of the holiest Buddhist stupas in Nepal. It's said to possess evolved spontaneously when the valley was created out of a primordial lake quite 2,000 years ago. This stupa is that the oldest of its kind in Nepal and has many monasteries on its premises too.
Charumati Stupa
Buddhism widened at the time of Emperor Ashoka the great Emperor of India, who sent Buddhist missionary groups to different countries including Nepal. He didn't only send missionary groups but also visited Nepal himself with his daughter, Princess Charumati. Princess Charumati was married to Prince Devpala of Devpatan (present Chabahil) and stayed in Kathmandu valley. Later on, she built Charumati Stupa and Charumati monastery, in Chabahil, Kathmandu. Hence the history of Charumati Stupa is around 2,300 years old. Over time, the historical Charumati Stupa has undergone several repairs, reconstructions, and renovations from time to time by contemporary rulers. The available chronicles, stone inscriptions, and order records indicate that the famous Charumati Stupa is an ancient archaeological part of the Kathmandu valley history related to Buddhism.
Bouddha Stupa
Bouddha Stupa is also called Khasa Chaitya in Nepal which is located at about 11 km from the center and northeastern of Kathmandu, the stupa's huge Mandala makes it one of the largest spherical Stupa in Nepal and it is one of the largest stupas in the world. It is believed that the king constructed the stupa as an act of penance after unwittingly killing his father. The first stupa was demolished by Mughal invaders in the 14th century, so the current stupa is a more recent construction. The symbol construction serves in essence as a three-dimensional reminder of the Buddha's path towards enlightenment.
Tharlam Monastery
This monastery of the Sakya sect of Buddhists. This monastery is located right next to Boudhanath Stupa.